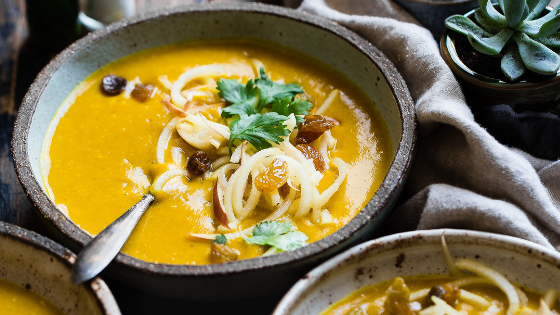 There's something heartwarming about a homemade bowl of soup especially after a busy day in an Atlanta apartment. Coming home to the fragrant aroma warms both our hearts and souls. This easy, make-ahead recipe can either be made in the crock pot and allowed to simmer all day, or made in one pot on your stovetop. Team a bowl with a grilled cheese sandwich or top with homemade croutons for a wonderful meal any time of the year. This recipe is good to go or personalized to your individual tastes.
Here's What You'll Need To Get Started:
1 tablespoon olive oil
1/2 cup chopped celery
1/4 cup chopped onion
2 cloves garlic, minced
7 cups chicken broth (use vegetable broth for vegan)
1 (14-1/2-ounce) can diced tomatoes, undrained
1 1/2 cups fresh or frozen mixed vegetables
1 teaspoon Italian seasoning
1 teaspoon salt
1/2 teaspoon black pepper
1 cup chopped potatoes
Here's What You'll Do:
In a soup pot over medium heat, heat oil. Add celery and onions and allow to cook for 5 minutes, stirring occasionally until onions are clear
Add minced garlic and allow to cook for one minute
Add broth, diced tomatoes with liquid and vegetables
Add Italian seasoning, salt, and pepper
Stir and bring to a boil
Reduce heat to low and simmer 15 – 30 minutes. The longer the soup simmers, the flavors combine for a more flavorful soup.
Here are some variations to try:
Double the recipe, make ahead and store in the refrigerator for up to a week or in the freezer for future enjoyment
Add your favorite cooked meat like chicken, beef cubes or ground turkey for a heartier, flavorful protein-filled soup
Add black beans, kidney beans or navy beans for a vegetarian, fiber filled meal
Add additional seasonal vegetables like broccoli, cauliflower, cabbage to add flavor and nutrition
Replace the potatoes with pasta or noodles
Creating delicious recipes at home is a smart way to save money while enjoying quality time in your 2460 Peachtree Atlanta, GA apartment. Contact us today to see how our gorgeous kitchens are perfect for trying new recipes and relaxing with a bowl of soup any time of the year.