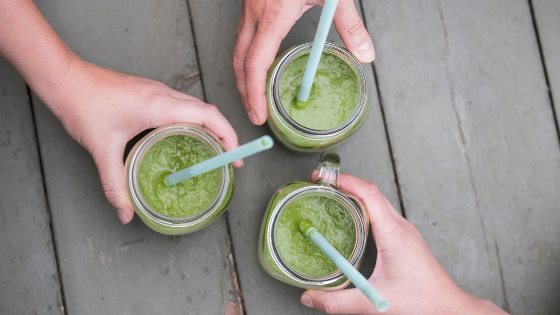 Are you in the mood to try something new and tasty this summer in your Atlanta apartments? Why not try a green juice? Green juices are delicious and nutritious and are usually made with ingredients like lettuce and kale as well as fruits such as apples and bananas. Green juices are a little bit like smoothies, but with vegetables. In addition, they are chock full of antioxidants, minerals and vitamins to give you a healthy and beautiful glow. Here are three delicious green juices recipes for you to add to your health food collection this summer.
Traditional Recipe
2 cups chopped kale
2 apples
1 carrot
1 cucumber
Try a traditional green juice by blending together 2 cups of chopped kale, which is full of nutrients and antioxidants and considered a super food. Then add two apples and a carrot. First, cut up the apples by slicing them into quarters and adding them to the blender, then do the same with the carrot. Finally, cut up the cucumber and add it to the blender. Once you have your concoction, pour it into a strainer or cheesecloth, then pour the remaining juice into a cup.
Lemon Juice and Ginger Recipe
3 apples
1 lemon
1 teaspoon ginger
3 cups kale and spinach mix
This recipe will make a sour, sweet and spicy concoction almost like a hot apple cider drink. Cut up 3 cups of spinach and kale and add 3 chopped apples. While you're blending that, chop up a teaspoon of ginger and a peeled and seeded lemon. Add them to the blender and give it a final blend. Strain with a cheesecloth and pour into a cup.
Antioxidant Green Juice
2 cups blueberries
1 cup spinach
1/2 cup raspberries
1 cup almond milk
1 tablespoon honey
Add almond milk and honey into a pan and let boil for 1 minute until fully dissolved, then add 2 cups of blueberries to a blender and mix until a puree is formed. Add in raspberries and a touch of cinnamon, pour in the almond milk and honey mixture and add the spinach. Finally, blend for 1 minute until fully blended. Strain into a cheesecloth and firmly press to collect all of the juice. Pour into a cup.
These green juice recipes will help you get healthier than ever before. If you'd like to see for yourself how enjoyable it would be to make green juices in your Atlanta apartments, please contact us today!