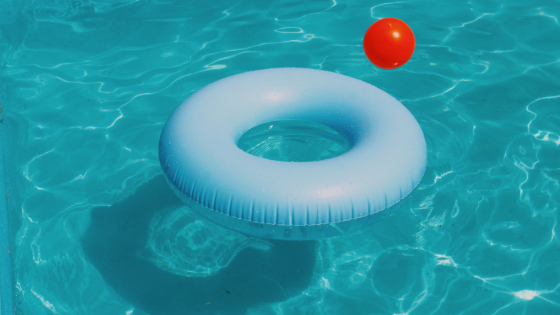 Having a rooftop pool and sundeck is a definite perk when it comes to apartments in Atlanta. Whether you're gathering with your family or a few close friends, it's relatively easy to introduce themes and games to add interest and keep everyone engaged — even non-swimmers.
Music
Contact everyone ahead of time to help you pepper the party playlist with their favorite songs. You can opt for tropical island music, classic rock or your favorite rap artists — anything that keeps the mood upbeat.
Games
Marco Polo is always a blast, but here's another in-pool game to entertain your guests. You can play it with two or more players, which makes it easy to scale regardless of the number of players. The name of the game is Atomic Whirlpool. and the objective is to create a swirling whirlpool with nothing but a little teamwork.
Players form a circle or oval and walk, swim or run in a counterclockwise or clockwise direction. In moments, a whirlpool forms. Toss in balls or swim into the maelstrom to test the strength of the mighty whirlpool.
It's pretty easy to set up a water volleyball net for another classic pool game to get everyone moving.
Food and Beverages
For safety and convenience, use plastic or nonbreakable containers to serve and enjoy food and beverages by the pool. Preparing the food ahead of time lets you enjoy the day with guests and gives you time to plan easy-to-eat dishes and snacks. Fingers sandwiches are a big hit. You can prepare everyone's favorite cold cuts on fancy bread or indulge vegans and vegetarians with options that fit their diets.
Tip: Cucumber sandwiches are yummy and can be prepared in a number of ways. They help guest cool down on a warm day and add sophistication to a bohemian poolside extravaganza.
It may be more convenient to buy canned or individually packaged drinks to cut down on cleanup and to avoid breakage. Juice boxes and cans of lemonade are healthy alternatives to soda that fit neatly into a cooler.
These are just some of the ways you can spice up a cool pool party in Atlanta apartments. If you are looking to upgrade your living space, call today to check out our available floor plans.